Jimi Hendrix: The Man In the Music (Pt.2)
Buster Hendrix: Jimi Hendrix Childhood
Birth of Jimi Hendrix
(revised and updated February, 2021)
Jimi Hendrix's mother was Lucille Jetter.  She was light-skinned with reddish hair which accentuated her beauty.  She loved to dance and be in the middle of the action at Seattle's clubs.
It was on the dance floor that she met Al Hendrix doing the jitterbug.  The couple was among the best dancers where ever they partied.  She was pregnant with Jimi in March March of 1942 when she and Al married.  Within a short time, Al had been inducted into the Army and shipped out.
Lucille was only 17 years old when on November 27th, 1942, she gave birth to Johnny Allen Hendrix (the first of 3 of Jimi's official names) at Seattle's King County Hospital. Al was denied family leave from his base at Fort Sill in Oklahoma.
Jimi's Parents Troubles
Jimi Hendrix childhood, like all children, centered around his family.
Lucille began to take odd jobs in the clubs and had affairs with several men.  Jimi's care often fell to his "aunts" or grandmother.
When he was two years old, his mother placed him in the temporary care of a church friend, Mrs. Champ in Berkeley, California while she traveled to visit relatives on the East Coast.
Al received an honorable discharge from the Army on September 1, 1945, and returned to Seattle having already filed initial divorce papers because of reports that reached him of Lucille's relations with several men.
Al traveled to Berkeley to retrieved his son and returned to Seattle where he legally changed his son's name to James Marshall Hendrix in honor of his late brother, Leon Marshall Hendrix.
Lucille returned to Al many times, just to leave again.  She gave birth to Leon, Joe, Pam, and Kathy during the next five years.  Whenever Lucille was around, she and Al would yell and even hit each other.  This wore on Jimi.  When he was only four he told an aunt that, "mommy and daddy fighting all the time."
Lucille Dies When Jimi Was 16
Jimi Hendrix childhood ended when his mother died.
He only saw his mother sporadically before her death in 1958.  A heavy drinker who had developed cirrhosis of the liver, she died of a ruptured spleen.  She was only 34 and never saw Jimi perform.
According to Leon, Al did not allow the boys to attend Lucille's funeral.  "He gave us each a shot of vodka and we all stayed home."  The exact location of Lucille's grave was a mystery for years.  Jimi's biographer, Charles Cross (Room Full of Mirrors: A Biography of Jimi Hendrix
), searched the graveyard for days before he found it.  Only recently has a simple stone been placed there.
Many believe that Jimi wrote The Wind Cries Mary in memory of his mother.
Jimi's Brothers and Sisters Become Wards of the State
Jimi Hendix childhood was not a happy one.  His mother's lack of attention and her early death surely brought him emotional trauma that he would live with for the duration of his life.
Jimi was the eldest child in the family.  He often found himself caring for his siblings who had their own problems.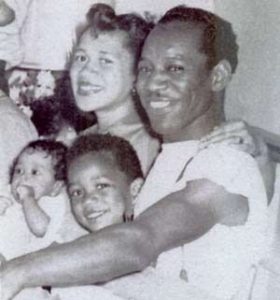 Jimi was just 6 years old when Leon was born in January of 1948.  Lucille was not around much and Al worked, so Jimi often watched over Leon, fixing him meals or leading to a neighbor's house where they would both get something to eat.
Jimi's other siblings had additional difficulties that made their early development a challenge.  Three of them were born with birth defects.
Joseph Allen was born in 1949 with a cleft palate, deformed leg, and other serious birth defects.
A year later, Cathy Ira was born sixteen weeks premature.  It soon became evident that she was blind.
Pamela Margerite came the following year.  She was also born with health problems and was adopted out before she ever came home.
Al and Lucille accused each other, time and time again, for giving the children these handicaps.
Jimi Hendrix childhood could have been filled with the joys of having brothers and sisters around.  That was not to be.  Expenses for the medical care they needed was far out of the reach of Lucille and Al, so they gave up their parental rights to Kathy, Pamela, and then Joseph.
Jimi's siblings were eventually moved into foster homes.
Much later, Leon was given to a foster family because Al was not giving the boys proper supervision.
Jimi was too old to be placed with a family, so he was allowed to remain at home.  Jimi and Leon saw each other daily.  Leon's foster family lived only 6 blocks away.
Jimi Hendrix Childhood Influenced His Music
It was a troubled childhood, but not so much different from that of many poor African Americans during those times.  Yet, Jimi's bluesy tunes were often fueled by these experiences.  Leon believes that Jimi wrote Castles Made of Sand about their family.
"Down the street, you can hear her scream you're a disgrace
As she slams the door in his drunken face
And now he stands outside
And all the neighbors start to gossip and drool
He cries oh, girl you must be mad,
What happened to the sweet love you and me had?
Against the door, he leans and starts a scene,
And his tears fall and burn the garden green"
Young Jimi was really into Flash Gordon.  He would dawn a cape and, like Flash, fly off into space.  Friends and family members often saw him acting out scenes  from War of Worlds and Flash Gordon.  They gave him the nickname Buster after Larry (Buster) Crabbe who played Flash Gordon in the movie.  The name stuck with him throughout his childhood.
In December 1951, Lucille and Al officially divorced, yet Al retained custody of Leon and Buster.
Jimi's Neighborhood
Jimi went to junior and senior high school in an ethnically diverse neighborhood.  Equal numbers of blacks, whites, and Asians were in his classes and on the streets.   Classmate remember Buster and Leon being very poor because of the often tattered, oversized, , clothes they wore.
Jimi's high school was Garfield High School in Seattle, the alma mater of Bruce Lee and Quincy Jones.
Jimi was extremely animated as he played the current hits on his first guitar, a broomstick.  Al did not approve of the waste of time and he disciplined Jimi many times for leaving broom straw, from his strumming, on the floor or bed.
At the age of 14, Jimi and Leon sat on a hill looking down into a Seattle stadium as Elvis Presley perform.  Many of Jimi's later gyrations on stage were inspired by the King.  That summer the boys learned that Little Richard, already a popular singer, would be preaching in a church not far from their home.  They went to hear him.  Jimi would later play a backup role in Little Richard's band.
Jimi's First Guitar
One of the major highlights of Jimi Hendrix childhood came in his 15th year.  He was given his first electric guitar from the daughter of a women who often took care of him.  Learning to pick and strum the instrument became a passion for the teenager.
He eventually played with two bands—the Rocking Kings and the Tomcats.  In 1959, Hendrix dropped out of high school.  He worked odd jobs while continuing to follow his musical aspirations.
His first real exposure came on the Chitlin Circuit which is subject of the next post in this series of Jimi Hendrix: The Man In The Music.
Watch This Video interview by those who knew him:

Jimi Hendrix childhood home, the only home Al the owned when the boys were young was demolished in March 2009.
More Jimi Hendrix Articles on 60s Folks
This article is an installment in the Jimi Hendrix Series on 60s Folks:
Save