Haight Ashbury Clinic is an example of the kind of medical care this country needs to improve the health of the uninsured.  The Free Clinic was born out of concern of some visionary citizens. It provided free medicial treatment for the hippies and flower children at the womb of the Summer of Love in The Haight.   Not only did they find doctors who were experts in their most profound aliments, the waiting room was warm and inviting to their community as captured in Alain Dister photo above.
On June 7, 1967, Dr. Dave Smith brought his vision of service to life when he opened the Haight Ashbury Free Medical Clinic in San Francisco, CA on Haight Street as a response to the medical needs,  of the multitudes of young people who gathered in San Francisco for the Summer of Love.   Smith a medical, research scientist in the 60s saw the need for compassionate healthcare.  City twice rejected Smith's proposal for the city to establish such a clinic.  With his small inheritance, a meager staff, and  the mantel Director he began to serve ill and addicted.
This first Free Clinic spawned at least 70 Free Clinics around the country between 1967 and 1969.  Some place the current role of free clinics to be close to 2000.  Sadly, less than 10 of the original seventy still remain.
Smith served as President of the clinic for 39 years, since its inception. He stepped down President of the clinic in February 2006 over differences with the current Clinic administration.  Smith was disgruntled with the clinic "identifying with the establishment."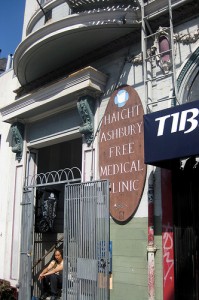 The Haight Ashbury Free Clinic continues to operate today serving the homeless and those without without adequate health insurance.
The Haight Ashbury Free Clinics, Inc. is an associating of free health care service provider serving more than 34,000 people in Northern California.  As the name attests, these clinics are closely linked to the mother free clinic.  The Clinics are currently composed of four core programs: Medical clinic; Substance abuse treatment services; Jail psychiatric services; and Rock medicine.
George "Skip" Gay founded the heroin clinic and drug detoxification unit at the Haight-Ashbury Free Clinic.
Frontline aired its PBS documentary of the 20-year history of the HIV epidemic, it featured the Haight Ashbury Free Clinic as the one of the first places where the virus and its complications were noticed. The clinic has always been on the "street," hearing the hoofbeats of whatever social and medical problems arise, and it has often been the first to respond. The clinic continues to maintain a large, comprehensive program for patients infected with HIV, using its resources to provide acupuncture, mental health services, detoxification and rehabilitation services, and case management to the hundreds who would otherwise be passed by.
The Free Clinic celebrates its 43 Anniversary next month.  True to its origin, rock bands will feature in the fund raiser it will be host at San Francisco's Great American Music Hall.
Related Posts :