London's Chic 60s Boutiques
Hung On You
The Rolling Stones, Beatles, and the Kinks were some of the best dressed pop stars of the 60s.  They often were wearing duds from the swank and popular Hung On You Boutique, a smallish shop at 22 Cale Street in Chelsea, England.  It later relocated to 430 Kings Road, just down the street from Granny Takes a Trip.
The styles featured at the Hung On You were a strong departure from the norm.  The aristocrats and pop-stars of the 1960s sought to stand out from the standard wardrobes of the masses.  The clients were mostly males.
Like their clients, The Hung on You were trend breakers and trend setters at the same time.  And, like some of the 60s rockers, it had a short life, closing down in September 1968. It was a part of the same pattern that caused the downfall of Granny Takes a Trip – expensive fabrics, cost of tailoring and inability of combining laid-back mentality with business.
The Hung on You was owned by designer Michael Rainey.
His then wife, Jane Ormsby Gore, in a 2006 interview with the Victoria & Albert Museum, said: "Michael made the most gigantic mistake of leaving Cale Street and going onto the King's Road. He felt that it was happening on the King's Road, but it cost a lot of money to move, and people didn't know where we were. It became less successful then. Before it was slightly more slick, with a big jardinière mirrored thing in the middle of the shop. We had got two children by then, and we were seriously into soul seeking and going on fasts and meditating… We left London, sold everything, gave away everything, and went to live in Gozo. London times and everything were over."
Granny Takes A Trip
Just down the street from Hung On You's new location, at 488 King's Road, was it chief competitor of the 1960s, Granny Takes A Trip.  It was owned by the trio Nigel Waymouth, Sheila Cohen, and John Pearse.  The swank boutique opened in 1966 and closed in the mid-1970s.
The name of the boutique was giving away its policy – 'Granny' symbolized the influence of the past, and 'Trip' , a colorful world of growing hippie movement and its drug of choice – LSD. Granny's.  Like the boutique's clients, the shop changed its appearance several times.
Visit our own 60s Boutique.  It is still open.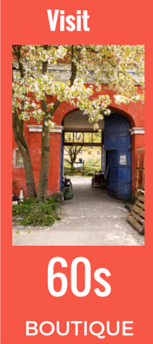 Save
Save
Save
Save
Save
Save
Save
Save
Save
Save
Save
Save
Related Posts :